Official Sun City Girls Discography:
Not The Spaces You Know, But Between Them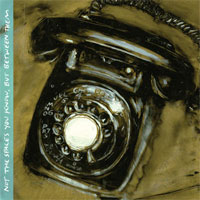 LP cover
2011: compilation 4-LP (Three Lobed Recordings: TLR 080)
Limited to 1000 total sets in a plush, heavy Stoughton lid box filled with: (1) four vinyl albums pressed on 140 Dutch vinyl; (2) four different printed inner sleeves each bearing different artwork; (3) a big foldover insert with an extensive liner note essay from Marc Masters (The Wire, Pitchfork); (4) a download card for mp3s of the set.
Sun City Girls contributed three tracks: "Wide World Of Animals", "Sangkala" and "Caravan". Recorded live November 12, 2004 at Emo's in Austin. This was the final US show by the Sun City Girls and this crisp soundboard recording shows the group clicking at a high level.
This release also includes tracks by: Steve Gunn, Sonic Youth, Mouthus, Comets On Fire, D. Charles Speer & The Helix, Wooden Wand, Eternal Tapestry, and Bardo Pond.