Official Sun City Girls Discography:
Sir Richard Bishop: Narasimha
2007: 12" (Southern Lord: SUNN90.5)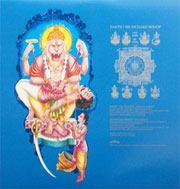 12" cover
Release date: February 2008
Side one is Dylan Carlson from Earth performing a piece called "Peacock Angel's Lament" while the reverse side has SRB's "Narasimha" (That's Narasimha on the cover, the Lion-headed avatar of Vishnu who is disemboweling some unfortunate victim). This was available only during the 2008 Earth/SRB European tour. They are long gone. "Narasimha interestingly marries "eastern" modalities or tones to more western modes of music without relying on clichéd eastern instrumentation like the sitar, although it is present but not a focus instrument."
Tracks:
Earth - The Peacock Angels Lament
Sir Richard Bishop - Narasimha