Official Sun City Girls Discography:
Napoleon and Josephine (Sun City Girls Singles Volume 2)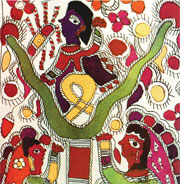 CD cover
2009: CD (Abduction: ABDT-043)
In the summer of 1988, Sun City Girls began working on two records simultaneously: "Torch of the Mystics" and "Dante's Disneyland Inferno". The former was finished and released in December of 1989 but the latter wasn't released until April of 1996. "Dante's" morphed into an entirely different record over those 8 years due to several originally targeted songs for inclusion being hijacked by other projects. Two tracks (X+Y/Frankenstein) were siphoned-off to the "Kaliflower" LP in 1993 and 4 tracks (1, 11, 12, 13) included here were released on 7" singles in the early 90's. The two most notable of the Singles tracks dominate this record. "Napoleon & Josephine" runs almost 13 minutes and was originally released as a single in 1991 (Scratch Records). The full track was split into sides (parts 1 & 2) running over 6 minutes long. An alternative mix which has been shelved for 15 years is featured here. "Reflection of a Young Boy Eating From a Can of Dog Food on a Shiny Red X-mas Ball" was originally released as side 4 on the double single "3 Fake Female Orgasms" (Majora 1991) and was 8 minutes in length. This extended version is the original complete recording running 22 minutes. Legendary Phoenix electronic musician and SCG associate David Oliphant mixed and processed the entire piece live to tape in his studio. The remainder of this set is composed of like-minded & literary SCG singles and compilation tracks, including the previously unreleased "The Weatherman" which was originally recorded as an introduction for "Napoleon & Josephine". This is the second of a multi-volume set of rare & long out-of-print singles, compilation, and unreleased tracks to be assembled and sequenced to play as full-length records. Vinyl editions may also appear in time.
Tracks:
The Rhinemaiden's Palatial Mountain Retreat
Prick of the World
Sleazy Nashville
Eyeball in a Quart Jar of Snot
The Weatherman
Voice of America #3
Insignificanto
A Wake
Kaspar Hauser
The Bearded Hermes
Encyclopedia Vomitanica
Napoleon & Josephine
Reflection of a Young Boy Eating From a Can of Dog Food on a Shiny Red X-Mas Ball