Official Sun City Girls Discography:
Rick Bishop & others: Messenger Girls Trio
2003: LP (Anomalous Records: NOM18)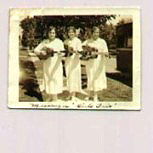 LP cover
David Knott, Jeffery Taylor, Robert Millis, & Rick Bishop.
"Jeffery Taylor and I started playing guitars together last December 2000. Not long after we decided to invite Rob Millis in on the fun and pretty soon, word got around and Sir Richard was soon begging us to let him change our strings. We considered it for awhile and eventually conceded...." — Dave Knott, 10/15/01.
Limited edition of 200 copies. Out of print.