Official Sun City Girls Discography:
Male Fantasy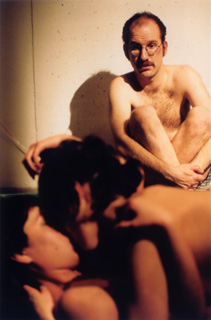 Still from
Male Fantasy
(2004)
2004: film soundtrack
The soundtrack features 5 Sun City Girls tracks.
Plot: Divorced from his wife and from reality, a deluded and eccentric man applies a magical philosophy to his romantic life in order to become a successful ladies man, rise from his depression and achieve godhood. With the annoying but superhuman persistence of a door-to-door salesman, he tangles with obstacles thrown in his way by his best friend and his lingering feelings for his ex-wife. But mostly, he battles with reality's stubborn refusal to co-operate with his master plan.
Film Credits:
Director: Blaine Thurier
Producers: Greg Milton, Glen Lougheed (Exec.), Jared Valentine, Blaine Thurier
Screenwriter: Blaine Thurier
Cinematographer: Jane Wietzel
Editor: Blaine Thurier
Music: Sun City Girls
Cast:

Robert Dayton
Cindy Wolfe
Steve Wood
Shane Nelken
Kim Cote
Bonnie Catterson