Official Sun City Girls Discography:
Sir Richard Bishop Magrebh Blues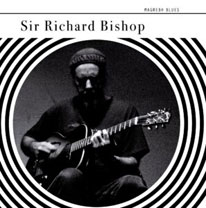 7" cover
9/15/2022: 7" (Unrock: UNR30-2)
When internally the plan came up to release a bunch of vinyl singles for Unrock's 30th anniversary as an entity, Richard just like his brother Alan, the other keyholder of Sun City Girls legacy was among the first to take a deep look into his archives.
Out came two shining pearls from different periods of his long career. Taqasim For Omar (acoustic) was recorded in Seattle in 2008. It was recorded before the Sir changed his mind and recorded the track with an all electric band again for his Freak of Araby LP. Magrebh Blues was recorded in Tangier, 2018 when Bishop recorded Tangier Sessions in Morocco. The track came out too bluesy for what Richard wanted to show with the album, but it is the only track he played on the mysterious guitar which beautifully sounds like a magrebhinian blues. Photography by Hans van der Linden, realisation by Philip Lethen. One-time limited run on black vinyl.
Side B
Taqasim For Omar (acoustic)