Official Sun City Girls Discography:
Live Room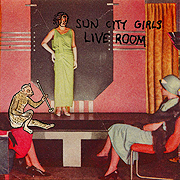 CD cover
2006: CD (Three Lobed: TLR 020)
This CD is part of a subscription series by Three Lobed Recordings
More info: Three Lobed
One of 8 CDs in the Three Lobed Recordings "Modern Containment" series, this is a crazed SCG collection of rants, poetry, statements, interviews, and other text backed by piano, drums, voices, shortwave radio, and odd miscellaneous sounds. It was performed and recorded live on the radio at KCMU 90.3 FM (now KEXP) in Seattle's University district on a random Saturday night over 12 years ago (Feb 26, 1994). It features the last segment of Uncle Jim's GHENGIS-Necro-Nama-KHAN (the first 3 segments can be found on Radio 1 and 2 of Carnival Folklore Resurrection Volumes 11/12).
Tracks:
Program Introduction
Invocation #1
The GHENGIS-Necro-Nama-KHAN Pt. 4
Children of Gravity
Invocation #2
Anonymous Disclosures Pt 1
Anonymous Disclosures Pt 2
Noticias Disinformacion
Unsolved Mysteries of Pop Culture
Epilogues/Sign-off