Official Sun City Girls Discography:
Live From The Afterworld
Recordings at the Afterworld Lounge 1991-1993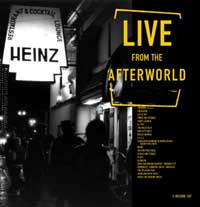 2-LP front cover
1999: double LP compilation (Electro Motive Records: CPA-018)
A 2-LP compilation of live recordings from the Afterworld Lounge, which for 17 months provided a venue for cutting-edge music within the confines of an Oakland, CA Vietnamese establishment called the Heinz Restaurant and Cocktail Lounge. Then the Heinz got shut down thanks to a combination of unpaid rent and the absence of a cabaret license.
Issued in a limited edition of 600, and it appears (ca. January 2004) that there may be a few copies left.
"...exquisitely demented and passionate..." — SFgate.com
The Sun City Girls track is titled "The Flower."
We don't have the full track listing, but other artists include: Thinking Fellers Union Local 282, Fibulator, Little My, Three Day Stubble, Vomit Launch, O-Type, The Molecules, Mecca Normal, C.C.C.C., Ruins, Caroliner Rainbow Scrambled Egg Taken for a Wife, Vacuum Tree Head, Pluto, Rova Saxophone Quartet, Splatter Trio, Crawling With Tarts, Sticks and Stones, and Blowjob.