Official Sun City Girls Discography:
Live at C.O.N. Artists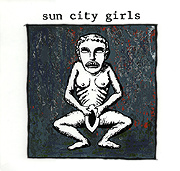 Front cover (white version)
1993: LP (Poon Village: PV23)
Recording of Sun City Girls performing at the C.O.N. Artists loft space in Charlestown, MA, during the 1992 North American tour with Thinking Fellers Union Local 282.
"Nephthys" features Brian Hageman from TFUL 282 on viola.
C.O.N. Artists was a legendary serigraph collective, and they produced the cover for this release. Each copy had a hand-made seven color silkscreen print. The majority were released on white stock, but a very limited number were done with black stock.
Side A:
Black Tent
Instruments of Torture
Side B:
Nephthys
Nights of Malta