Official Sun City Girls Discography:
Jazz At The Court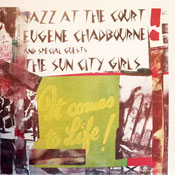 CD-R cover
2021: CD-R (House of Chadula: 2021)
Eugene Chadbourne And special guests
"The SUN CITY GIRLS was how this special night at the Court Tavern, part of a small East Coast tour leg that combined these radical forces on the release of the Country Music in the World of Islam tour. There was a 15 minute jazz medley performed as a quartet that night, and this disc also includes a longer section on an earlier night. Jazz was frequently a subject during my solo shows at the Court and from the sound board trove we also have a handful of really pristine Monk treatments, Crepescule on a really groovy 12 string..."
Sun City Girls play on the jazz medley and the last track.
Ask Me Now
Criss Cross
Light Blue
A Picture Of Me Without You
Miss Ann
Hackensack
Coltrane Medley
Jazz Upstairs, Rock Downstairs
Jazz At The Court
Memories Of New Brunswick
Hackensack 2
Crepuscule With Nellie
It's A Wonderful World
Astral Travelogue And Charlie And Eugene's Christmas Song