Official Sun City Girls Discography:
Flute and Mask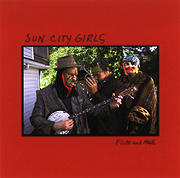 CD cover
2002: CD (Abduction: ABD 024)
Limited edition of 500. All cuts recorded by Sun City Girls, except track 1 recorded by Spencer Sundell live at the Rainbow, Seattle, on March 18, 2000.
A very limited reissue of a CD originally available only during the November 2002 tour.
"Mostly acoustic instrumentation of strings, percussion, gamelan, and other unidentifiable sources, Flute and Mask delivers that 'otherness' vibe in a way that no other group out there seems to provide. Its still hard to imagine that John Ashcroft continues to let these 3 whackos roam freely within US borders." — Forced Exposure catalog.
Tracks:
Where's My Fuckin' Jesus?
I saw a cigarette breathing so I smoked it
Lord Brown of Due South
Blacony Sampoerna
Lord White of the North
Dukun Olympic Theater