Official Sun City Girls Discography:
Sir Richard Bishop & Jason Glover: Elvi Sinawi
2003: 3-inch CD (Tripod: TRIPOD2)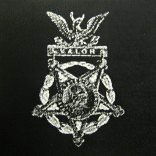 mini-CD cover
A live performance of electronics and general mayhem. Recorded in the late '90s at I-Spy in Seattle, or at Benaroya Hall, depending on who you ask. Limited to about 35 copies in jewel case.
Out of print.