Official Sun City Girls Discography:
Alan Bishop & Richard Bishop Present
The Brothers Unconnected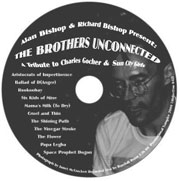 CD face
2008: CD (Abduction: ABDT-042)
Recorded Live by Randall Dunn 3-26-08
Recorded during the first and only true rehearsal for the Brothers Unconnected tour, this sampler represents some of the material that was featured at the Brothers Unconnected shows across North America in May, June, and July of 2008. The disc is a manufactured CD and comes in a white paper sleeve and was sent to press and radio to promote the tour with the balance of copies only made available at the Brothers Unconnected live shows. All tracks were first takes and recorded live in the studio. Limited edition one time pressing of 1000 copies.
Tracks:
Aristocrats of Impertinence
Ballad of D(Anger)
Rookoobay
Six Kids of Mine
Mama's Milk (To Dry)
Cruel and Thin
The Shining Path
The Vinegar Stroke
The Flower
Papa Legba
Space Prophet Dogon