Official Sun City Girls Discography:
A Bullet Through the Last Temple
Carnival Folklore Resurrection vol. 4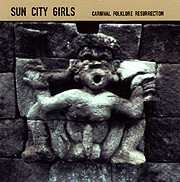 CD cover
2000: CD (Abduction: ABD 015)
Limited edition of 1000. Recorded live by Scott Colburn at Gravelvoice, Seattle, in December 1997.
Guests: David Carter (trumpet) on trax 1,2,5,7,9; Teri Nelson Zagar (upright bass) on trax 4 & 8.
"Sun City Girls' first full foray into the jazz whirl feels more like an inspired AACM session than the ironic ethnic forgery we might've expected. Really great." -- Slippy Town Guide to Sound Recordings, 2003
"This one features 9 shorter instrumental tracks, some with a campfire freak-out flare ('In The Bosom of Ungle'), others with a full flight swinging jazz methodology ('NARCOLODIC') not often heard via this conglomerate." — Forced Exposure catalog
Tracks:
"I give em all 5 stars"
Samba Venez Norte
In The Bosom of Uncle
Junky Fado
NARCOLODIC
Hip Fog Swirl
Old Nancy Wardrobe in the Dance Closet
Hiccup Tribe Scan Tumor Flower
A Bullet Through the Last Temple